Vintage Chinese Wooden Carving Panel, Wall Hanging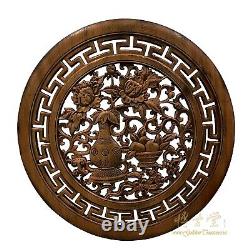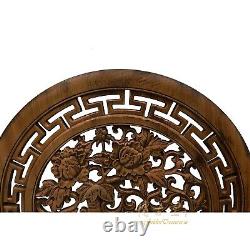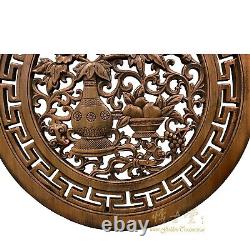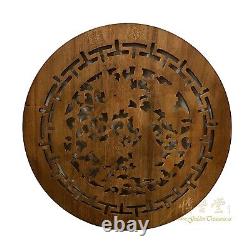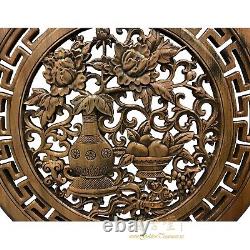 Golden Treasures Antiques & Collectible, Inc. Vintage Chinese Wooden Carving Panel, Wall Hanging. Size: 22 1/2in H x 22 1/2in W x 3/4in D Origin: China Circa: 1960 Material: Wood Condition: Solid wood, hand carved, normal age wear. This is a Vintage Chinese wooden carved panel.
It features all open hand carving works of floral and vase design. Look at the pictures, some of minor blemishes due to age but definitely quality workmanship. Solid wood, hand carved, normal age wear.
Make sure to mark the damage on the receipt in order to get reimbursement if any damage occurred. Is a wholesaler and retailer based in California. Company who deals with the unique art of fine Chinese antique furniture and accessories. All of our products are imported directly from China. As a premier source of Chinese antiques and accessories, we have a complex chain of scouts who are constantly traveling through towns and villages in search of collectible-worthy antique furniture and accessories.
We are proud to present you a line of high quality, practical, and affordable Chinese antique furniture. We specialize in Chinese Ming and Qing dynasty-style antiques, hand-carved jade and bone, and various Chinese folk art.
We search high and low to provide you with the best possible selection of products to suit your specific needs. Most of our antiques come from the Qing dynasty yes, over 100 years old! We also carry reproductions of some of our more contemporary pieces. Our vast selection of antiques include altar tables, baskets, beds, chairs, hand-carved medium and large panels, cabinets, Tibetan trunks, stone statues, and many more products that can be used to decorate your home. We also have a variety of posters and collectibles.
Our range of antiques also covers some of China's finest ceramic models and porcelain. We are physically located in Pomona, southern California. We try and match the antiques at an affordable price.
Whether it may be on our online store, or in our physical store, we promise to be with you every step of the way. Our collections are carefully scrutinized and come from all over China, including Tibet. Our goal is to bring you a world of handmade treasures, and all of our products are conveniently stocked in our California location.