Very Early Antique Chinese Hand Carved Gilt Wood Panel Scholar Art 3D Dragons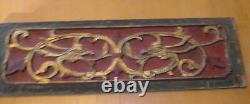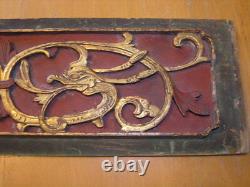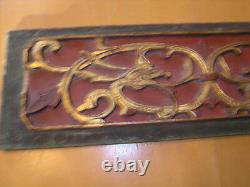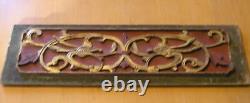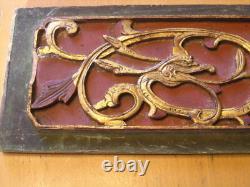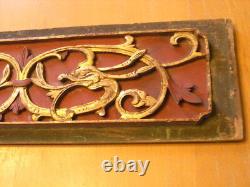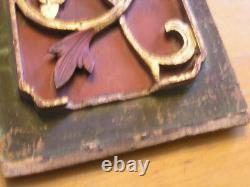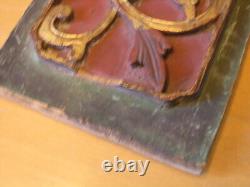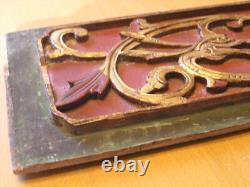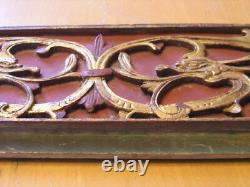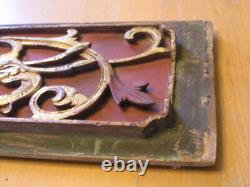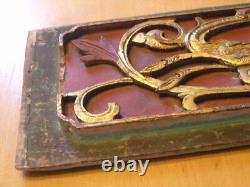 This Listing is for an Antique possibly 18th or 17th c 16th C. Or Ming Period Chinese Hand Carved Gilt Wood Panel fragment / Scholar Art, three dimensional Scene of two swirling Dragons, 20 inches by 6 1/8 inches by about 7/8 inches maximum depth, weighing 491 grams net. The back side has remnants of velcro attached as shown which was how it was displayed Delicately hand carved in great detail out of one wood panel with motif of two archaic swirling dragons painted in gold over a red lacquer paint with exterior edge in a green tone color. In excellent original as shown condition with the raised border edge on two sides chipped off as shown.
This is one of the earliest fragments of its type which I have ever acquired in like the past 35 years. Images are continuous and have an order front, back, sides, etc.. And should be viewed in continuous fashion. There are a total of 22 images of this item posted within the description part of this listing.
Make sure you see them all. If you do not receive a reply in a timely manner, chances are your question has not made it to us, (a couple of hours at the very maximum but usually in minutes), if so, please resend your questions.